Lisbon Metro (Subway)



Lisbon Metro (Subway) is the fastest way to travel through Lisbon. It is a reliable transportation with several trains during the day.

For me it has an inconvenient: you don't get to see the view while you're travelling.

And don't forget to read my safety tips.

The first project was created in the year of 1888.

It was designed by Henrique de Lima e Cunha and already included a net of underground railways.

It didn't pass the paper stage.

Later, in the beginning of the past century (XX) two other projects were developed by Lanoel d'Aussenac / Abel Coelho (1923) and José Manteca Roger / Juan Luque Argenti (1924).

They also didn't succeed.

It was only after the World War II, with the precious help of the Marshal Plan funds, that the decision of building the Lisbon Metro was finally made.




So, in the year of 1948, the Metro Company was created.

We had to wait until the year of 1955 for the construction to begin.

Please, remember that in those days we were not running as much as we do now!

And the drawings were probably hand made. Know what I mean? Lots of rubber erasers and stuff...

After only four years, we were celebrating the Lisbon Metro inauguration. It was a major success.

In the first year some 15,3 million passengers used the subway.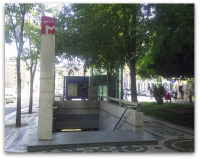 The network originally had two lines:

one from

Sete-Rios

(now called

Jardim Zoológico

) until

Rotunda

(now

Marquês do Pombal

) and
the other from

Entre-Campos

until

Rotunda

.

From

Rotunda

the line had an extension until

Restauradores

.

At the time of the inauguration, the Lisbon Metro was the Europe's 14th and the world's 25th.

The first ever was the London Subway designed by Charles Pearson, the inventor of this kind of transportation.

From those days until now, the Metro Network has grown to four lines and 46 distinct stations divided this way:

Blue

Line

:

17 stations

Yellow

Line

: 13 stations

Green

Line

: 13 stations

Red

Line

: 7 stations

If you would like to know more about how the metro network grew over the years just click here.

The

following stations are common to more than one line

:

Marquês do Pombal

(common to Blue Line and Yellow Line)

Campo Grande

(Yellow Line and Green Line)

Baixa-Chiado

(Blue Line and Green Line)

Alameda

(Green Line and Red Line)



Under construction

are the following connections:

Alameda

-

S. Sebastião

Oriente

- Airport
When ready, Lisbon will have

40 Km

of underground railways divided by

4 lines

and

52 subway stations

.

Almost all of the Metro Stations are

authentic art galeries

, like for example the Orient Station.

You have to see them with your own eyes.

Don't forget to check out the Metro Network Diagram and the Subway Map. You can also save or print them.



---
Top of Page
Return to Home Page from Lisbon Metro
---