Lisbon Restaurants



Do you fancy a fantastic meal?

Great! So do I!



The Lisbon Restaurants page will show where to find one!

As you probably know, the portuguese gastronomy is highly appreciate by people all over the world.

This happens because for us cooking is indeed a form of art.



We like to take time with our food

. No rush, great meals!

If you like fast-food, you better go to a Shopping Center where it will be easier to find lots of fast-food resturants.

Of course, you can always find some McDonald's throughout the city.

But if are in the mood to experience great gastronomy then stay out of the fast food and enter a world of possibilities.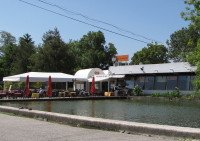 I can honestly say that

you can have a decent meal in almost restaurants in our city

.

Maybe, you should avoid the smaller ones because some are good and some are awful.

You have to know them very well, because even when they're ok, I would probably only advise some dishes.

Know what I mean? Lots of oil with the fried potatoes and stuff like that...

But, at the same time, some of these smaller places, called

tascas

are an amazing experience of good food served with simplicity

.

No fancy stuff to tourists but great taste.

And if you want to really get to know the

lisbon people where they are more genuine

, you got to try a

tasca

at least once.


What should I try?

Sea food

(

Marisco

) is one of our specialities!

In fact, considering all Europe this must be the best capital to taste some great fresh sea food!

Another speciality,greatly appreciate by the portuguese people and our visitors is the

Cod (

Bacalhau

)

.

They say that are more than a thousand ways to cook Cod. It is so tradicional that everybody here eats cod in the Christmas Eve.

The

Caldeirada

is another thing to try. The caldeirada contains a great variety of fish.

When it was originaly created by the

fragateiros

that sailed the

fragatas

up and down the Tagus (

Rio Tejo

), it contain wathever fish they could catch.

Some days you would have some kind of fish mixture and the other day another one. Always a surprise!


Tip


Avoid the fish on Monday. You see, on Sunday the fleets that catch the fish stay in land so Monday is not a good day for fresh fish. But it's a great day for everything else.


Besides these options, there are a variety of food options you should consider. Find out more Lisbon Food here.

You can also find a food dictionary to help understand what's on the Menu when you go to a restaurant.


Where to go?
There are

many options

for you and a

wide range of prices

to choose from.



But first,

some notes

:

As you can easily imagine

I haven't tried all the Lisbon restaurants

. At least not yet.

What I present here are some of the

restaurants that I have tried

, some

recommended by my friends

and finally others that

have some fame

of being particulary good in some thing (service, food, or other).

Also,

is not my intention to give you an exaustive list of the Lisbon restaurants

simply because you won't have time to try them all and would be a waste of time for us both.

For now, I'm expending my time in more important stuff. When I have time and if I think it's appopriate I'll include more options.


Going back to where to eat, you have a

lot of options

.



For your convenience, I'm dividing the Lisbon restaurants by location, so you can easily find a restaurant near you, your hotel or your tour destination.

When available (I'm working on it), click on the links bellow to know more:

Parque Eduardo VII, Avenida da Liberdade & Restauradores
Baixa, Rossio & Chiado
Bairro Alto, Príncipe Real & Rato
Bica
Cais do Sodré & Santos
Alcantâra & Docas
São Bento
Campo de Ourique
Lapa
Ajuda
Northern Lisbon
Eastern Lisbon
Parque das Nações
South of Rio Tejo
Cascais & Estoril

Because this list is huge I'm also preparing a

Top Ten list of the Lisbon Restaurants

.

Don't forget to consider the Lisboa Restaurant Card for discounts in many of these restaurants.


See also
Find out how to get discounts in Lisbon
What about a discount in your restaurant?
Do you like to shop? Read this
Do you like a great meal? Discover the Lisbon Food
---
Top of Page
Return to Home Page from Lisbon Restaurants
---