Sport Lisboa e Benfica

This a very pleasant page to write because, as I told you, Sport Lisboa e Benfica, or just Benfica, is my club.



One of the greatest clubs in the entire universe.



(Sorry if I get a little carried way by the emotion.)

You see, for us football (or soccer) is more than a passion.



It's something that really overpasses us.

And Benfica is even more special!

When Benfica looses a game, half of the country has a bad start in the work week. Know what I mean? "Oh no, Monday... and Benfica lost... I don't wanna go to work!"

But when Benfica wins, fortunatelly very often, it's easier to go to work smilling and whistling, specially if it is a big vitory.

And I'm not only talking about guys. Women also like football and Benfica (well, at least some of them...).



The mascot of Benfica is an eagle

- called

Victória

, wich means victory.

When the team plays in Estadio da Luz, its home stadium, the eagle performs a fly from the audience seatings until the sward.

It's fantastic! Check it out in the video below.









What makes Benfica so special?
Well, for a start Benfica

has more titles than any other club in Portugal

.

Next, it has more associates than

any other club in the world!



It's true, it's even in the World Guiness Records Book.

Go and check it out if you don't believe me.

More than Manchester United, Real Madrid or Barcelona!

It's also a big club in Europe with two Champions League Titles (61/62).










When was it founded?
Benfica was founded in the year of

1904

by

Cosme Damião

and another 23 ex-students of Real Casa Pia.

In that remarkable meeting it was decided that the club (only football then):

Would play with

red and white equipments

,
Would have an

eagle for its symbol

and
wolud have the

motto "E Pluribus Unum"

(wich means: from many, one) - if you are from USA you should recognize this motto since it is the same as yours, right?
Who played for Sport Lisboa e Benfica?
Eusébio

was probably the best player of all time. And I mean worldwide! He played in the time of Pelé of Brazil and some say that he was even better than Pelé.

Benfica made a statue for Eusébio at the entrance of its Stadium.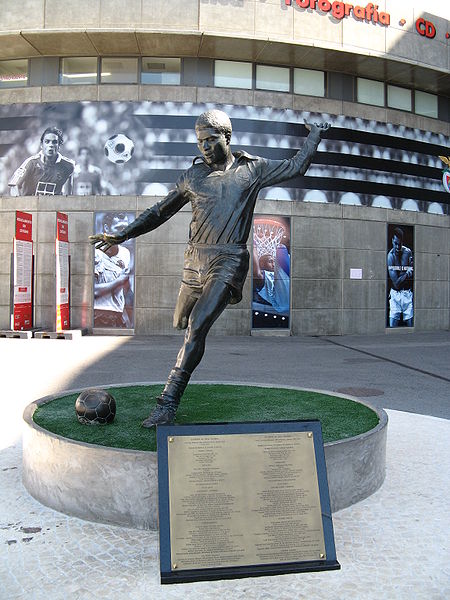 But there are other great football players that used this beautifull equipment. Click here to check them out.


Is Sport Lisboa e Benfica only about football?
Of course not! Benfica has many more sports.

Since the early days Benfica added new sports.

The first one was Cycling and it was so important that the actual flag still has a bicicle wheel.

Nowadays, besides football, the club has:

Basketball
Handball
Voleyball
Ring Hockey
Futsal
Cycling
Gimnastics
Athletism
Rugby
Judo
Surf
Sport Fishing
Table Tennis (ping-pong)
Triathlon
Swimming
Golf
Snooker
Archery

Two of the most recent famous athlets are

Nelsón Évora

(Olympic gold medal in triple jump) and

Telma Monteiro

(World Silver Medal in Judo).


---
Top of Page
Return to Lisbon Sports
Return to Home Page from Sport Lisboa e Benfica
---