Portuguese Escudo



Lisbon former currency is the Portuguese Escudo.

Accordingly to the ISO 4217 standard, the code was "PTE".

The symbol of the former Portuguese currency was the cifrão

.

The cifrão was placed between Escudos and centavos like on the image below that shows the 2,5 Escudos or 2 Escudos and 50 centavos.

Since 2002, the

Escudo was definitely replaced by the Euro

.

The permanent

conversion rate

between Escudos and Euro, defined on the 31th December 1998, was the following:



1 Euro equals 200,482 Escudos

(the comma divides the Escudos from the Centavos)

.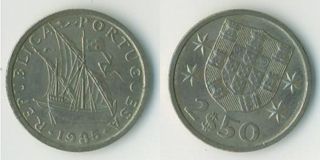 (Note that the coin shown above was no longer in circulation when the Euro appeared.)

At the time of the introduction of Euro there were 7 different coins in circulation:

1 escudo
5 escudos
10 escudos
20 escudos
50 escudos
100 escudos
200 escudos
See the Portuguese Former Coins here.

There were also 5 different Banknotes in circulation:

500 escudos
1.000 escudos
2.000 escudos
5.000 escudos
10.000 escudos
See the Portuguese Former Banknotes here.
See also:
Portugal Actual Currency - The Euro
---
Top of Page
Return to Home Page from Portuguese Escudo
---